Online anger management classes – gain control of your life.
Anger – an issue which seems to be revealing concern among many people nowadays in the U.S. and around the world, perhaps because it is an issue  which affects all generations, races, communities. In fact, anger has the potential to touch anybody in this country  without prejudice. It is frightening for those who have to live with it every day. Anger not only involves the person affected but all those they come in contact with daily. Because it is such an important issue in society today, people are continuously striving to develop programs to help those affected by anger-related issues.
An online anger management class may be the most powerful tool an individual may use to combat their anger issues. The Internet is also a great resource when seeking information about anger management related services, such as an anger management course. It is imperative to explore all possible avenues of support when seeking anger management help.
Our online certificate courses are accepted by most U.S. courts, and have been used to meet court-ordered requirements in the following 40 U.S. states and territories: Alaska, Alabama, Arizona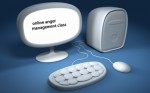 , California, Connecticut, Colorado, Delaware, Florida, Georgia, Idaho, Illinois, Indiana, Iowa, Kansas, Kentucky, Louisiana, Maine, Massachusetts, Maryland, Michigan, Minnesota, Missouri, Nevada, New Hampshire, New Mexico, New Jersey, New York, North Carolina, Ohio, Oklahoma, Oregon, Pennsylvania, Puerto Rico, South Carolina, Tennessee, Texas, , Virginia, Washington, Washington D.C. and Wisconsin.