The National Day of Prayer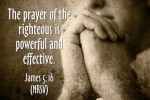 The nation will be called to prayer this Wednesday. The National Day of Prayer takes place at the same time, all over the country.
It's a tradition that Rick Rowe says started with the end of World War II.
When Jesus talked about prayer he talked about doing it in private, just you and God in a room a closet.Jesus is usually right but sometimes a big prayer is a good thing and that's what Harry Truman proposed more than 60 years ago.
Millions of people had been killed and the world was laid to waste, a victory that changed the course  of human history and through it all, a president prayed.
7 years after beseeching the providence of God at the end of World War II, Harry Truman proclaimed a national day of prayer.
It would always be within the first few days of May and would always be a reminder of the foundation on which this country was built.
You need only go back and read the words of the founding fathers to see it.
So very year in early spring, millions gather in churches and places of worship all over America.
WEDNESDAY, March 30 (HealthDay News) — Saying a prayer for another person may help people control their negative emotions after being insulted by a stranger, researchers report. A series of studies found that after people were intentionally provoked into anger, asking them to pray for a person who needs extra help or support (a cancer patient, […]
A prayer to remove anger from our hearts:
Lord Jesus, there is anger in my heart and I cannot root it out.
I know that I should calm down and offer the hurt and disappointment to You
but my emotion is running away with me.
Help me to overcome this weakness and give me peace of heart as well as mind.
Let me learn from this experience and grow into a better human being. Amen.